Snowshoeing From Bear Lake to Emerald Lake in Rocky Mountain National Park
We recently snowshoed from Bear Lake to Emerald Lake in Rocky Mountain National Park on Christmas Eve day. It's a beautiful trek, slightly uphill, through silent, snow-covered forest, with views of majestic peaks towering above. On the way, we crossed two frozen lakes: Nymph Lake and Dream Lake, both of them lovely in their own right. Dream Lake especially nestles in grandeur.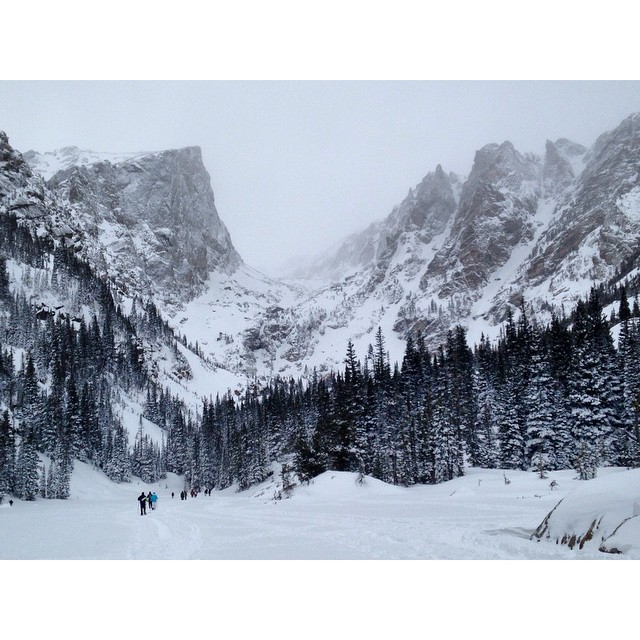 My sister Valerie and her family were visiting from Texas, and after a day of skiing and snowboarding at Eldora we thought a quiet respite of snowshoeing would be a nice change. The kids didn't want to go, so it was just Valerie, her husband Scott, Jessica and myself. We already own three pair of snowshoes, so we stopped at Estes Park Mountain Shop to rent the fourth pair. While their snowshoes are a bit beaten, they do the job, and at only $5/day, it's a great bargain.
Bear Lake is one of the most popular spots in Rocky Mountain National Park, but when we arrived around noon the parking lot was less than half full. That probably had to do with the fact that the temperature was a balmy eight (yes, 8) degrees Fahrenheit. We bundled up, prepared ourselves for the cold, but in the end it really wasn't that cold. There was no wind, and once you start stepping through the snow, you warm up pretty quickly. It's only when you stop for photos or snowmen that your fingers and toes might get a little frozen. So just keep moving.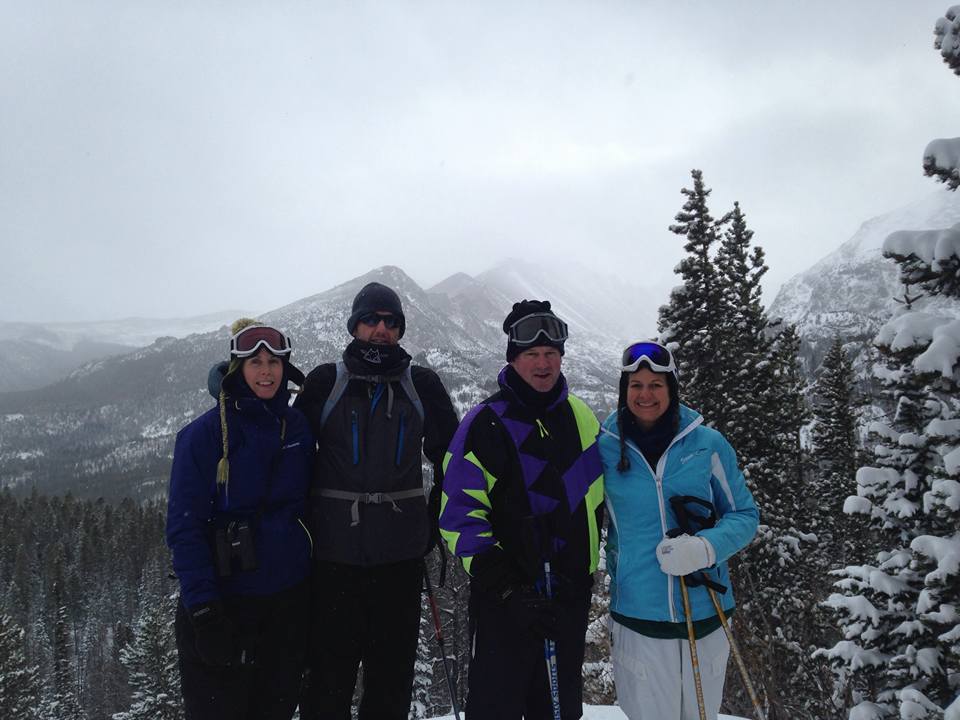 The snow on the trail was pretty packed down so there were some people not wearing snowshoes, but there are some pretty good inclines/declines along the way where snowshoes really help. Also, it's fun to go off trail and find deep snow to trek through. On one excursion into the trees I was up to my waist. It's a popular trail, so we were never long without other hikers nearby, but there were moments where it's just you and your thoughts and nature, and that's pretty special.
Logistically, the hike is about 2.75 miles round trip, with an elevation gain of just over 600 feet, with Bear Lake residing at 9475 feet elevation and Emerald Lake sitting at 10,080 feet. The trail isn't marked as far as we could tell, but it's impossible to miss and hard to go the wrong way. As mentioned, you cross Nymph Lake and Dream Lake, both frozen over, and the stretch after Dream Lake has the most elevation gain, but it's nothing too hard (except for the guy from Georgia we talked to who said his heart was racing). The leg out to Emerald Lake took about 1 hour and 15 minutes (with stops for photos and water), and the trek back took about 55 minutes (downhill with less stops).
In the end, my sister and brother-in-law loved the trip and the walk through the snow. The beauty is overwhelming at times and the pleasure of warm exertion in a cold environment gives you a nice glow the rest of the day.