New Year's Day Hike at Flatirons Vista Trail in Boulder
This past New Year's Day we succeeded in finding, and hiking, a great, "new-to-us" trail called Flatirons Vista. After three years living in Boulder, it's difficult to find new trails to hike that offer something different for everyone, but Flatiron Vista delivered a nice change, and we even managed to get the boys to come along which made for a memorable family outing under blazing blue sky.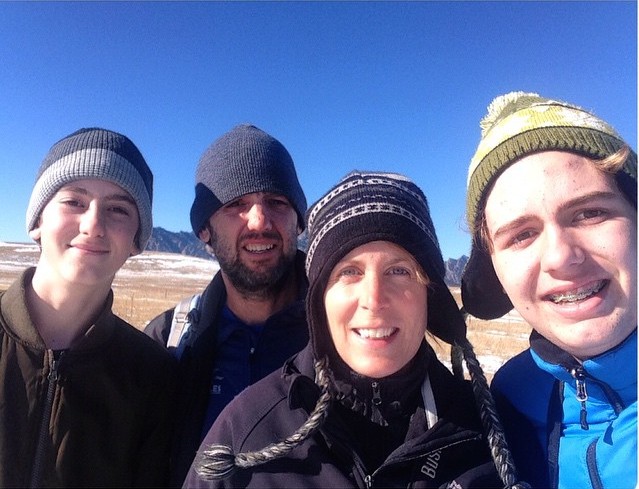 The Flatirons Vista Trailhead is located off Highway 93 a couple miles South of Boulder, across from the NREL campus. It's probably due the distance from our house (25 minutes or so) that we had never hiked this trail before. It's a popular trail judging by the nearly full parking lot, and allows for hikers, bikers and horses.
We chose to hike the main loop that encompasses the Flatirons Vista North and South trails. There was ice and snow on the ground, but the trail conditions were good. The beginning of the hike is slightly uphill through open prairie, with cows meandering across the trail. Scooter's a good dog though, and even off-leash he knew not to mess with the bovine.


After cresting the small hill, the trail moves through some pine trees, and then approaches a fork that connects with the Dowdy Draw trail. Keeping on the Flatirons Vista trail took us into a denser pine forrest with more snow, birds, and deer bones laid bare. Turning East, the trail goes along a barbed wire fence, comes out of the pine trees, then heads back downhill through a cow pasture and around a stock tank (frozen at this time of year).
True to it's name, Flatirons Vista trail offers excellent views of the Flatirons, and even a little window of the snow-covered Indian Peaks mountains through the foothills. Total distance is a little over three miles, and the trail gives everyone a little different feature: open pasture, expansive views, alpine forrest, single track trail, and more. Everyone agreed Flatirons Vista is an excellent trail, and if you visit, it'll be on your destination list.