Snowshoeing near our home in Boulder is one of our favorite Winter activities. Similar to hiking in the Summer, Snowshoeing is relatively low-impact, allows you to immerse in nature and provides awe-inspiring beauty. Surrounding yourself in silent grandeur as you step through the snow creates an unforgettable experience. The landscapes we've snowshoed through remain as some of our most memorable excursions in Colorado.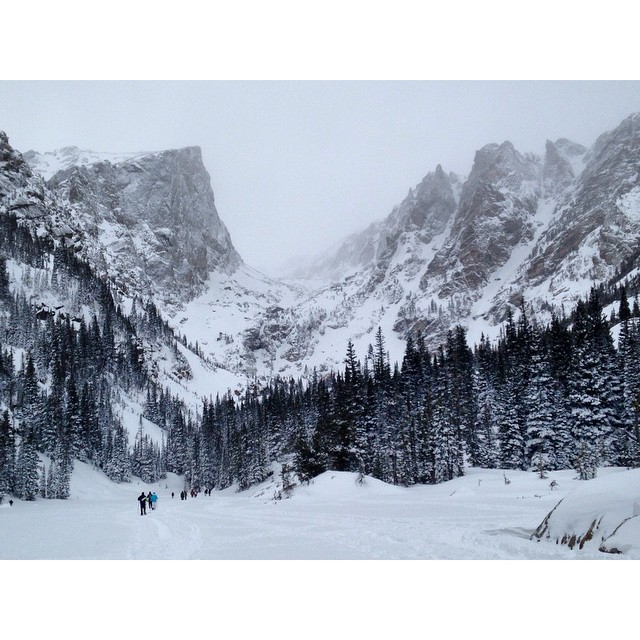 Rocky Mountain National Park may be our favorite place in the world, and it's an amazing backdrop for snowshoeing. About an hour drive from our house in Boulder, there are dozens of trails to snowshoe in the park, with our favorites being Cub Lake and Emerald Lake. Both hikes lead you through breathtaking scenery amid thigh-deep snow. Cub Lake is lower elevation and may not have enough snow early in the season, but it's less crowded than the hikes emanating from Bear lake (like Emerald Lake). Emerald Lake begins at Bear Lake (elevation 9475 feet) and climbs more than 600 feet to a truly awe-inspiring destination of Emerald Lake (elevation 10,080 feet). Even if you only make it to Dream Lake and back, it's a trip worth you're while. You can rent snowshoes for $5/day in Estes Park, so there's no reason not to snowshoe Rocky Mountain National Park. Pair it with a day sledding at Hidden Valley, and it's a wonderful winter adventure.
Brainard Lake, about 45 minutes from Boulder, is another great place to go snowshoeing. At an elevation of more than 10,000 feet, Brainard gets plenty of snowfall to go snowshoeing any time of Winter. While it also offers fabulous Summer hiking, Winter snowshoeing through Brainard is something that shouldn't be missed. Many of the trails at Brainard are for cross-country skiing only, but that just means the snowshoe trails are less-travelled and more peaceful. The silence you'll find in a snowdrift along the snowshoe trail in Brainard is something to be savored. Don't miss it.
Betasso Preserve is a little closer to Boulder than either Brainard Lake or Rocky Mountain National Park, and offers an easy three mile loop to snowshoe when conditions are right. Since it's a little lower elevation than the other two, there's not always enough snow, but when there is, Betasso Preserve is a beautiful trail to enjoy a snowshoeing adventure. You won't get the majestic views of 12,000 foot peaks, but you will be rewarded with peaceful trails through a snow-laden, forrest canopy.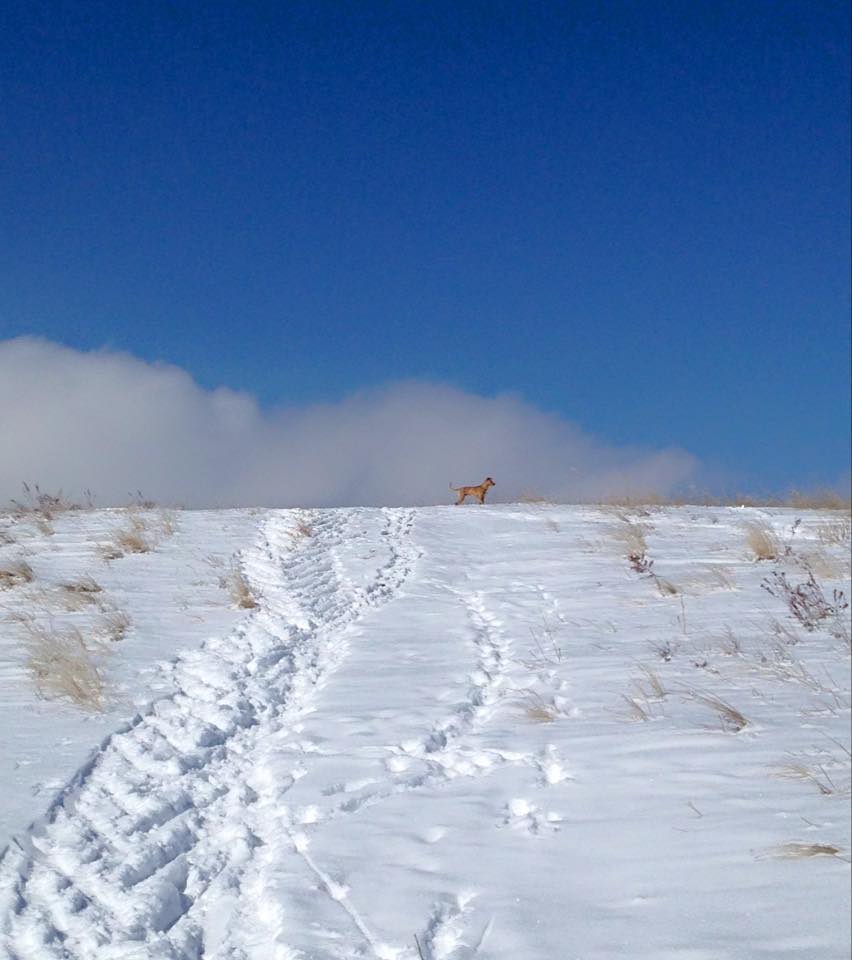 There are so many great places to snowshoe near Boulder, you can't go wrong with choosing any of them. However, for ease and convenience, the trails behind our house, known officially as East Boulder Trail at Gunbarrel Trailhead, and unofficially as "our hill", are the most accessible! If we get at least six inches of snow, we can step out our back gate and have miles and miles of trails to snowshoe. Scooter can even go with you.
These are just some of the snowshoe trails close to our home in Boulder, Colorado. And remember, if you can hike, you can snowshoe. Also, we own three-pair of snowshoes, so you probably don't even have to go to the rental shop. It couldn't be easier. Come snowshoe with us.